Current Movie:

Wayne's World – March 12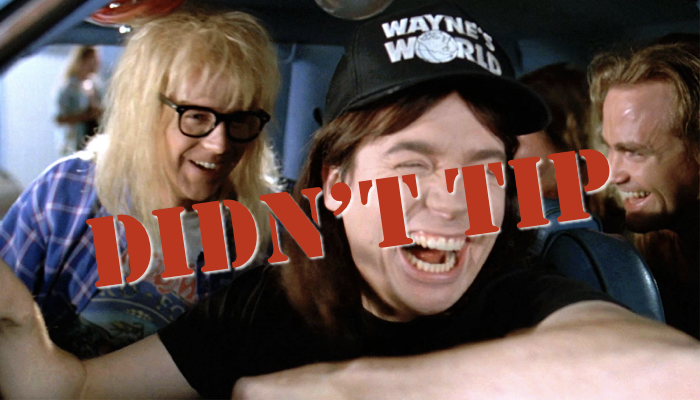 Nuts! This one didn't reach the tipping point in time. Unfortuantely, it won't be showing. We'll get 'em next time!
---
Wayne Campbell and Garth Algar light up the big screen from their parents' basement in the 1992 SNL comedy, Wayne's World, showing one night only at the Colonial Theater on Thursday, March 12, 2020 at 7:30PM.
As usual, we need to move 50 tickets before the show is officially on, otherwise it won't show.  Hey, it might happen…shyeah, and monkeys might fly out of my butt!
Wayne, Garth, help Wayne's shwing-worthy girlfriend (she's double live Gonzo, intensities in ten cities, live at Budokan!) land a record contract from the ever-sleezy, cantonese-speaking Rob Lowe, all while taking their Community TV show to the big time. It's excellent!
Been awhile? Here's a refresher:
New to Colonial Classic Movies?
Here's the skinny: The Colonial will show Wayne's World on March 12, 2020, but only if enough folks come to the screening. Here's how it works:
Go through checkout – It's just like you're buying a tickets, only we won't collect your payment or issue your tickets until the movie hits its tipping point of 50 tickets.
Spread the word! – Once we get 50 folks to come, the show is on! But it has to tip by March 5. If it doesn't tip, you're not out anything. We won't collect your payments, and the movie won't show. It's up to YOU to make it happen!
Head to the Colonial – We'll email you when your tickets are ready. Just print out your ticket or show it on your smart phone at the door.
Vote! – What shows next is up to you. Head to the Vote page to choose what shows at the Colonial's next CCM screening. Don't see a movie you like? Tell us what your favorite movies are on the Suggest page and we'll put them up for a future vote.
Highlights:
Beer & wine!
All ages welcome!
Mike Myers and

Dana

Carvey

!!!
Fine Print:
Wayhe's World
will show at the Colonial Theater on Thursday, March 12, 2020 at 7:30PM. Tickets bought online are $9 (price includes sales tax). Doors open at 6:30PM; all seating is open.
If tickets remain on the night of the show, they can be purchased at the Colonial box office for $11. When 50 tickets are purchased, payments will be collected and tickets will be issued for you to print out from this website and bring with you on the night of the screening. No admission without a ticket. If 50 tickets fail to sell, no payments will be collected, no tickets will be issued, and no movie will be screened.